Dit evenement is voorbij.
Titaan Grand Opening
donderdag 7 september om 16:00

-

18:00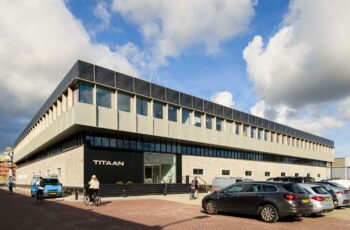 Titaan represents our collective effort, and we are thrilled to celebrate our shared ambition of fixing the future together! We invite you to join us, alongside founders and industry leaders from various sectors, to personally experience one of the Netherlands' largest innovation hubs. It's a place where ideas flourish and innovation thrives.
During this event, we encourage you to enjoy drinks, engage in thought-provoking conversations, and immerse yourself in a relaxed atmosphere. It's a unique opportunity to connect with like-minded individuals, exchange ideas, and explore the endless possibilities that await us. We eagerly anticipate your presence as we celebrate the power of innovation and collaboration. Let's come together to create an unforgettable evening where our entire ecosystem converges, forging powerful connections, and sowing the seeds of a future that is unknown.
Datum: Donderdag 7 september 2023
Tijd: 16:00 – 18:00 uur
Locatie: Titaan, Saturnusstraat 95, 2516 AG, Den Haag
Aanmelden: via impactcity.nl